South African Oxtail stew can (and should) be the food of kings. Slow-cooked in a dutch oven for 6 hours until it falls off the bone with a rich gravy that just waits to be soaked up by a thick slice of buttered bread! Peasants and kings enjoy it!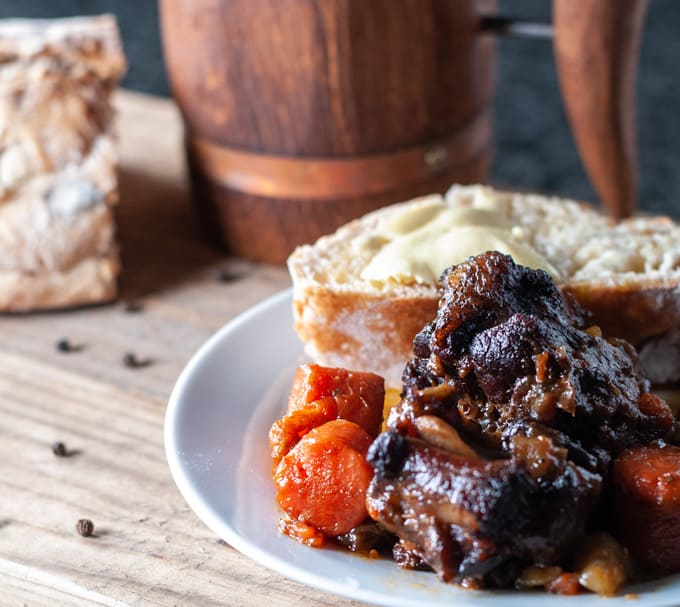 Oxtail used to be an ingredient that was frowned upon being the tail of the ox. But when I grew up in South Africa it was and still is a famous dish that is loved by most people. You will find a South African oxtail stew recipe together with a fetcook/vetkoek recipe in almost every household these days.
It is also one of those rare dishes that bring people together. Normally it is made outdoors in a 3 legged cast iron pot on fire (I will still do that recipe in the near future). But for this version, I chose to make it in a Dutch oven on the stove.
One of the biggest secrets for a delicious oxtail is heat control. The pot should be on the LOWEST heat possible. When you place your ear next to your pot you should hear it bubbling gently away. And every now and then you should witness a puff of steam escape that infuses the kitchen with an aroma that drives the family wild with hunger:).
One of the mistakes a lot of people make is to add too much water/liquid in their pot. Don't do it! If you cook the pot on low heat one cup of beef stock with the tomatoes will be sufficient.
Basic Ingredients
The ingredients are basic. But what adds a nice caramelized flavor is the brown sugar that you add when browning your meat.
Give this oxtail potjie / stew a go. It is a special dish, and goes really well in winter or summer.
PS: Don't be afraid to eat the oxtail with your hands! It is the only way to get the good meat of the bone. And if you enjoy stews that are slow-cooked try out my easy chicken stew.
Print
South African Oxtail Stew
---
Author:

Total Time:

6:30 hours

Yield:

4

1

x
Description
A hearty oxtail stew that will warm the cockles of your heart!  Slow-cooked for 6 hours with meat that falls from the bone and a rich gravy that will become a sure favorite of the family.
---
1

kg of Oxtail( Choose a packet that does not have too much fat around the meat)

2

Big onions roughly chopped

2

Tomatoes cut into quarters( or

2 tablespoons

tomato paste)

3

medium potatoes peeled and cut into quarters

2

–

3

medium carrots cut into chunks

350

ml

of beef stock
Coarse sea salt

1 tablespoon

brown sugar

2 teaspoon

fine black pepper

1 tablespoon

dried Origanum

3

cloves of garlic roughly diced

2

bay leaves

1/4 teaspoon

nutmeg

1

clove
Olive oil
---
Heat dutch oven on medium-high heat.  Season the meat with sugar, salt, and pepper then add some oil and brown the meat in batches. ( Make sure the meat is nicely browned for lots of flavor.) 

Then take the meat out and add the onions and garlic and bay leaves. Gently fry them for 5 minutes or so until they are nice and fragrant.

Deglaze with the beef stock. Add the browned meat back on top of the onions.  Add the tomatoes, origanum, Nutmeg, and the clove.  And then put on the lid.

Turn your heat source to its lowest setting and leave for 3 hours. ( You should just see a little puff of steam escaping every now and then.  Also if you listen to it it should gently bubble away)  You can open the pot after 2 hours just to make sure there is enough liquid inside.  If it looks a bit dry add a little bit of water.
After 3 hours add the potatoes and the carrots.  If there is not enough liquid add a little bit of water.  Give the pot one good mix and put on the lid again.  Leave for another 3 hours on the lowest setting.

After the 3 hours take the pot off the heat source and let cool for 10 minutes or so.  The fat will rise to the top.  You can skim most of it off with paper towels if you want to.  Give the pot one more good stir and serve with rice or chunky ciabatta bread!
Equipment
Notes
The equipment section above contains affiliate links to products I use or recommend.
This dish works best with a heavy-based cast iron pot.  It retains heat better during the slow cook process.
Listen to your pot. Put your ear next to it and you should hear it bubbling gently away and see a puff of steam escape every now and then.  Heat control is key.
Prep Time:

30 min

Cook Time:

6 hours

Category:

Stew Potjie

Method:

Slow cook

Cuisine:

South African